Bringing winter fun for all to the heart of the city
Winnipeg Free Press
By Rosanna Hempel, Sunday, 21 February 2021
Two young first-time skiers eagerly started off down a gentle slope in Central Park on Saturday afternoon, before tumbling backwards in perfect synchrony, smiling. Their grandmother, Christine Haas, was on standby and jumped to pull them back onto their feet.
Six-year-old Zaleah Snowdon Haas and 10-year-old Kayson had planned to attend the Heart in the Park event in advance, having spent the night at Haas's nearby home for the occasion.
Starting Saturday morning, Central Neighbourhoods Winnipeg and its event partners invited the downtown community to celebrate outdoor activities with free-to-use crazy carpets, skates and a new skating rink, with pink and purple heart-shaped designs set under the ice.
They handed out free knitted hats and scarves, created by volunteers through ArtsJunktion, and Raber leather mittens that were recently handmade for the event by the local manufacturer.
Knox United Church opened its doors to provide the public with a warming area and washrooms, as well as lunch just across the street. The Winnipeg Trails Association also joined in, offering its pop-up ski library for a few hours, before heading off to other locations throughout the city.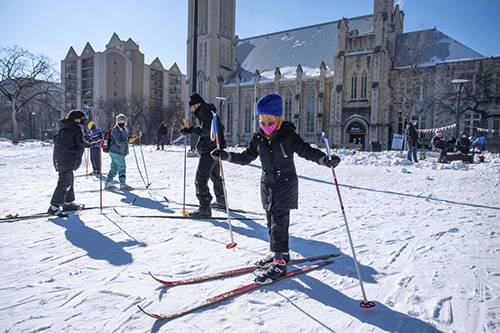 Ayah Mohamed tries out cross country skiing for the first time. Cross country skiing is just one of the many activities available at Heart in the Park Saturday morning. (Daniel Crump / Winnipeg Free Press)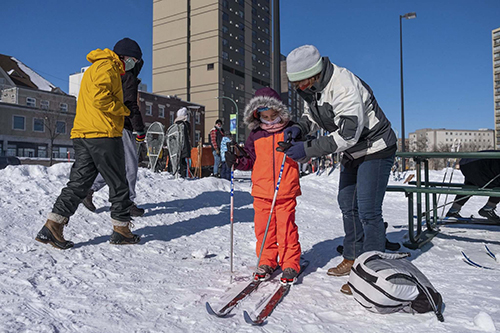 Zaleeah Snowden Haas tries out cross country skis for the first time with the help of her grandmother, Christine Haas. The skis are borrowed from the mobile ski library which was set up at Central Park for the event. (Daniel Crump / Winnipeg Free Press)
Dozens of visitors, old and young, took advantage of the sunshine and milder weather to enjoy the activities, while others watched, huddling around fire pits.
"I appreciate that I can bring my grandchildren," said Haas, adjusting Zaleah's ski boots. "(We) can't afford a whole lot."
Haas spent hours guiding her grandchildren as they learned the winter sport, catching their falls and untangling their skis when they did.
"It means everything," she said. "I can't afford to take them anywhere. I'm low income, and it's a great way to get the grandkids out and about, get them out and let them have some fun."
Central Neighbourhoods, a project working under the Spence Neighbourhood Association, received $7,000 in funding for the event — including for its outdoor rink and tobogganing ice chute that will be finished on Thursday — from the Daniel McIntyre ward through the city's new wellness grant program.
The City of Winnipeg has allocated each ward $40,000 to support community initiatives that help alleviate the negative mental and physical impacts of the COVID-19 pandemic.
The goal of Heart in the Park is to bring some "fun and brightness" to the area by getting people outside and making winter activities accessible, said Denae Penner, executive director of Central Neighbourhoods.
"This park, it's in the heart of the neighbourhood that we serve," said Penner. "We're excited to give really quality items to people who are new to Manitoba, new immigrants, people who are maybe experiencing home insecurity or job loss because of the pandemic, that they can feel supported and we care about them."
Other families like Rhodalyn Ordonez and her eight-year-old daughter, Kailani, also joined in on the festivities. Ordonez, who grew up in the West End, said this event is important for immigrant families living in the area who may never have tried skating or skiing.
"This is a great opportunity to learn a little bit what Winnipeg has to offer," she said.
"We could all use some fun time, and this is a perfect way for people to get outside and pick up their spirits," said Coun. Cindy Gilroy in a news release.
Gilroy, who stopped by the event on Saturday, said the activities are also meant for those who can't travel to Winnipeg's other parks.
Daniel McIntyre also has plans for other projects including a walkable ice sculpture garden at the Cindy Klassen Recreation Complex, designed by local artists and Sputnik Architecture.
Community centres, non-profit organizations, schools and other groups can apply for a grant with Winnipeg's Wellness Grant Program until February 28.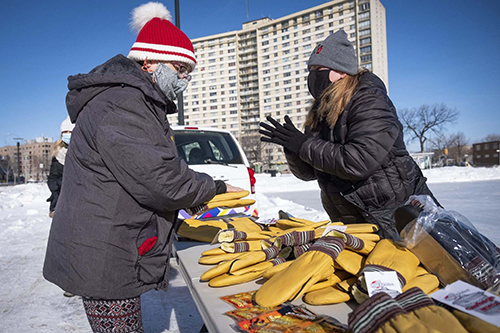 Gail Anderson (left) sizes up some mitts with the help of city councillor Cindy Gilroy. The mittens, free for anyone who needs them, are being given away as part of the Heart in the Park event. (Daniel Crump / Winnipeg Free Press)